Around 1972, in 2012 thus forty years ago, the church in our pastor's home was officially established and started to function as a Christian fellowship. It was also in this year that the sermons of William Marrion Branham were first printed in the Dutch language in our pastor's home.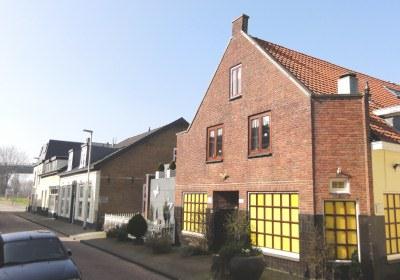 The church hall at the Boven Street ("Upper" Street in English) in Oud-IJsselmonde, Rotterdam in 2012. The building is adjacent to the river the Nieuwe Maas, at the junction where the river IJssel flows into the river the Nieuwe Maas. At the left side of the picture the Van Brienenoord Bridge is visible and the entrance of the Boven Street with the building named "The Gouden Leeuw" ("The Golden Lion"). In the interior of this premises is a tile that dates from the beginning of the seventeenth century. It indicates that the premises served in former years as an inn and a meeting place for the boatmen, farmers and members of the surveyors of the body of the dikes.
From 1972 on many brothers and sisters from the church have worked countless hours, together with Brother Harry and Sister Annie, to publish and send out the sermons of William M. Branham in the Dutch language; so that today more than four hundred sermons are published, besides other special publications. The sermons are given out in printed form, being made available on audio and video and published on the internet in PDF-format and ePub-format. In Rotterdam sermons are printed in other languages for other countries and many assemblies in foreign countries are supported to enable them to publish the sermons themselves.
Throughout the years the Lord has confirmed that the church in Rotterdam was planted by Him. The pastor, together with his wife and the brothers and sisters in the meeting, have worked faithfully in the vineyard of the Lord for Holland and many other countries.
This publication describes the founding of the church and some of the many special events that took place.

The Boven Street at Oud-IJsselmonde in 2011 with, on the left, the Van Brienenoord Bridge stretching across the river the Nieuwe Maas. Before the bridge was built a ferry was used to cross the river. The ferry was in operation for many hundreds of years and is mentioned in a historical document as far back as the year 1333. Across the river is het Zalmhuis ("The Salmon House"), a restaurant, referring back to the time when there was a lively salmon fishery on the river the Nieuwe Maas.