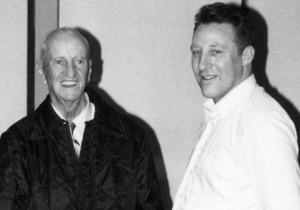 Sidney Jackson with Harry van der Stel in the new church hall in the Bovenstraat ("Upper" Street), Rotterdam, 1981.
The devil had attacked Sidney Jackson for many years with a problem in his lungs, caused by an injection he had once received. His lungs were now both reduced to just two little pieces. The doctors in Tucson had asked him to return the X-rays of his lungs, as they wanted to display them in a museum. They could not understand how a man could live with only just two little pieces of lungs like those shown on his X-ray.
Sidney Jackson and his wife visited us in Rotterdam in January 1981 for the last time. He was very weak and had lost thirty-five pounds when he was in Tucson, USA, since his previous visit to us in August, 1980. He and his wife had been very busy there, providing spiritual care to the large church in Tucson and having many private conversations often lasting well into the night.
At the time of this last visit to Rotterdam, Brother Sidney was also attacked, by Satan, with double pneumonia. When he was upstairs in Brother Harry's home, Harry had to keep his ear very close to Sidney's mouth to be able to understand what he was saying, as his voice was so weak. But when he went downstairs to the meeting hall, his voice became strong again and he even danced in the Spirit there.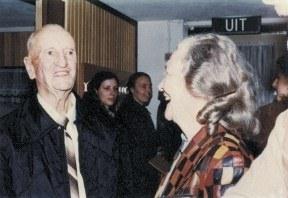 Sidney Jackson with his wife Johanna in the church hall in the Boven Street in Rotterdam, 1981.
During the first meeting, on January 2nd, 1981, he told us that he could have gone straight back to South Africa, from Tucson, USA, but that he specially came to Rotterdam. He said, "I am going to carry on; I will take that last step". He also spoke again about 1952, of how the Lord told him he would go to Holland and how the prophet gave him the letter of introduction.
He said: "As my brother spoke here, 1952, we weren't even in the Message and I told Brother Branham, 'God said I would go to Holland'. I would also touch on in Germany. But Germany didn't figure in the picture. It was Holland. And Brother Branham went to his secretary, Brother Cox. And he gave a letter there. Told him to type it. And you know what it was I think." Brother Sidney preached at that time in our new meeting hall, which we had just finished renovating and which he liked very much.
Then on January 5th, he was extremely weak and attacked in his lungs, but still wanted to come downstairs, to our meeting hall, for a question and answer service. He was having very much difficulty in catching his breath, but still, he continued answering all the questions.
After he returned to South Africa, he was attacked by several strokes. During one of these strokes, the evangelist, Lukas de Beer, put William Branham's hat on Sidney Jackson's head and the Lord revived him. It was the same hat that William Branham wore during his visit to South Africa, in 1965, and which he had given to Sidney. Later, Brother Sidney Jackson and his wife were moved to an old people's home, much to Brother Sidney's dismay.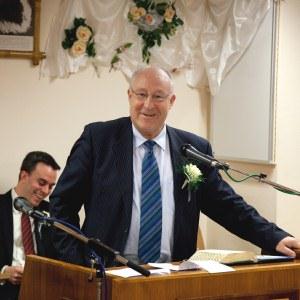 The pastor, Harry van der Stel with associate minister Paul Somers, during a wedding ceremony in 2009.
During that time the Lord gave Harry van der Stel a dream, in which he saw Sidney Jackson walking straight up, like a general, in a field of green grass. All at once Brother Sidney could not go further, as though there was an invisible fence stopping him. In that dream, Harry went over to him and lifted him over this invisible fence. Because of this dream, Harry and his wife Annie travelled to South Africa to visit Sidney and his wife Johanna.
When they met Sidney Jackson, he was down in the spirit and rather depressed, as his body was failing him. Brother Harry asked him if the Lord was still speaking to him about people and he confirmed that that still happened. So Harry told him the Lord had kept him there for that purpose, to pray for those people. As they talked to them and sang songs with them, brother Sidney started to rejoice again and was revived in the spirit.
It was only two weeks after that visit that the Lord took Sidney Jackson home to be with Him on July 1st, 1982. After that, our church contributed financially to the care of Sidney's wife Johanna, until she also went to her heavenly home to receive her reward from the Lord. They are both waiting for us now, to see us at the "meeting in the air".
We are very grateful to the Lord for Sidney Jackson's ministry and the way the Lord confirmed his ministry by the words of William Branham. Moreover the fact that the Lord spoke to Sidney Jackson about Holland and the confirmation of William Branham by a letter of recommendation, proves that we are a part of His predestinated plan.
We are also very grateful to the Lord for the ministry of our pastor and the way the Lord has confirmed this ministry through Sidney Jackson's ministry and also by what William Branham spoke to Sidney Jackson.
Although we don't have any special respect of people, we do highly respect these ministries, but most of all what the Lord has done in our midst. As Paul also says in I Corinthians 3:5-9:
"Who then is Paul, and who is Apollos, but ministers by whom ye believed, even as the Lord gave to every man? I have planted, Apollos watered; but God gave the increase. So then neither is he that planteth any thing, neither he that watereth; but God that giveth the increase. Now he that planteth and he that watereth are one: and every man shall receive his own reward according to his own labour. For we are labourers together with God: ye are God's husbandry, ye are God's building."