Parts of the speech of Tommy Osborn in the memorial service of W.M. Branham in Phoenix, Arizona (1966)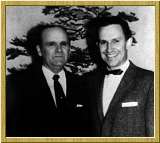 W.M. Branham with
Tommy Osborn
"The man we know as William Branham was sent to demonstrate God again in the flesh. But why was he sent to do this and why all of these signs? Had they not already been witnessed and recorded? Yes, yes, absolutely. They had all been done already and man had forgotten them. They were forgotten.
So God willing more abundantly to show us the immutability of His Council, did it again in the twentieth century. He did it again and I beheld it. His Glory.
William Branham came our way, the prophet of God, and showed us in the twentieth century precisely the same things that were shown us in the Gospel. Where we read of a few incidents in the Gospel, we have hundreds in our generation. No less glorious and wonderful. Far more numerous. We have seen them in our day. He came and walked the shores of Galilee, but he came to the streets of Phoenix, and of Portland, Orgeon and Tulsa, Oklahoma and across my nation. I saw it and when I saw it once, I knew what it meant. This was the Word in action."
Play the soundfile in wave format (421K).